In Conversation with Spectra
As part of Spectra's 70th Anniversary celebrations, we will be expanding our series of informal chats "In Conversation with…"   In this latest episode, Paul, Graeme and Frances look back on 2020 and going forward in 2021. To view the video in full, click here.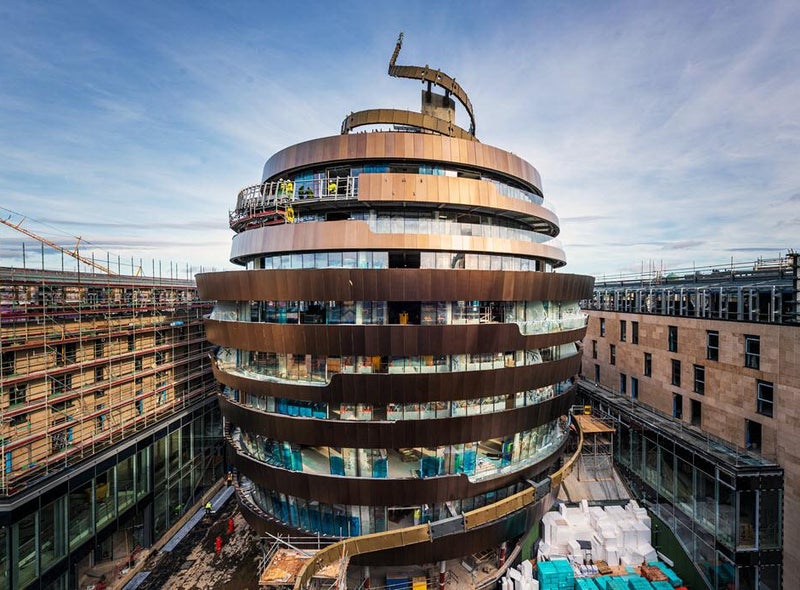 St James Quarter in Edinburgh Close to Completion
After closing its doors for redevelopment in 2016, the re-opening of the St James Quarter has been one of the most anticipated events in Edinburgh. The city centre development is in its final stages of the £1 billion refit with almost all areas of the development, including shops, restaurants and pop-up events, set to open in 2021 followed by the stunning W Hotel (pictured) which will welcome guests in 2022.
Photo: Ian Georgeson Photography
1 Leith St
Edinburgh EH1 3SS
Artist Ai Weiwei takes over the screen at Piccadilly Circus
For the month of October, Ai Weiwei's digital art piece New York Days takes over Europe's largest screen at Piccadilly Circus for two minutes every night at 8pm. Viewers will be able to plug-in and access the accompanying audio via CIRCA's website for a fully-immersive art experience. New York Days explores Weiwei's formative experiences of living in the US and his friendships with artist Andy Warhol and writer Allen Ginsberg.
Piccadilly Circus,
London W1J 9LL
The Virtual Event Experience
Virtual event experiences have become an invaluable business tool over the last few months. From virtual wine and cheese tasting, to a live cook-a-long or afternoon tea baking workshop with a professional chef, to a creative and personalised cocktail masterclass, to an adrenaline inducing virtual escape room with colleagues and clients, the opportunities to achieve an engaging and creative virtual event are countless!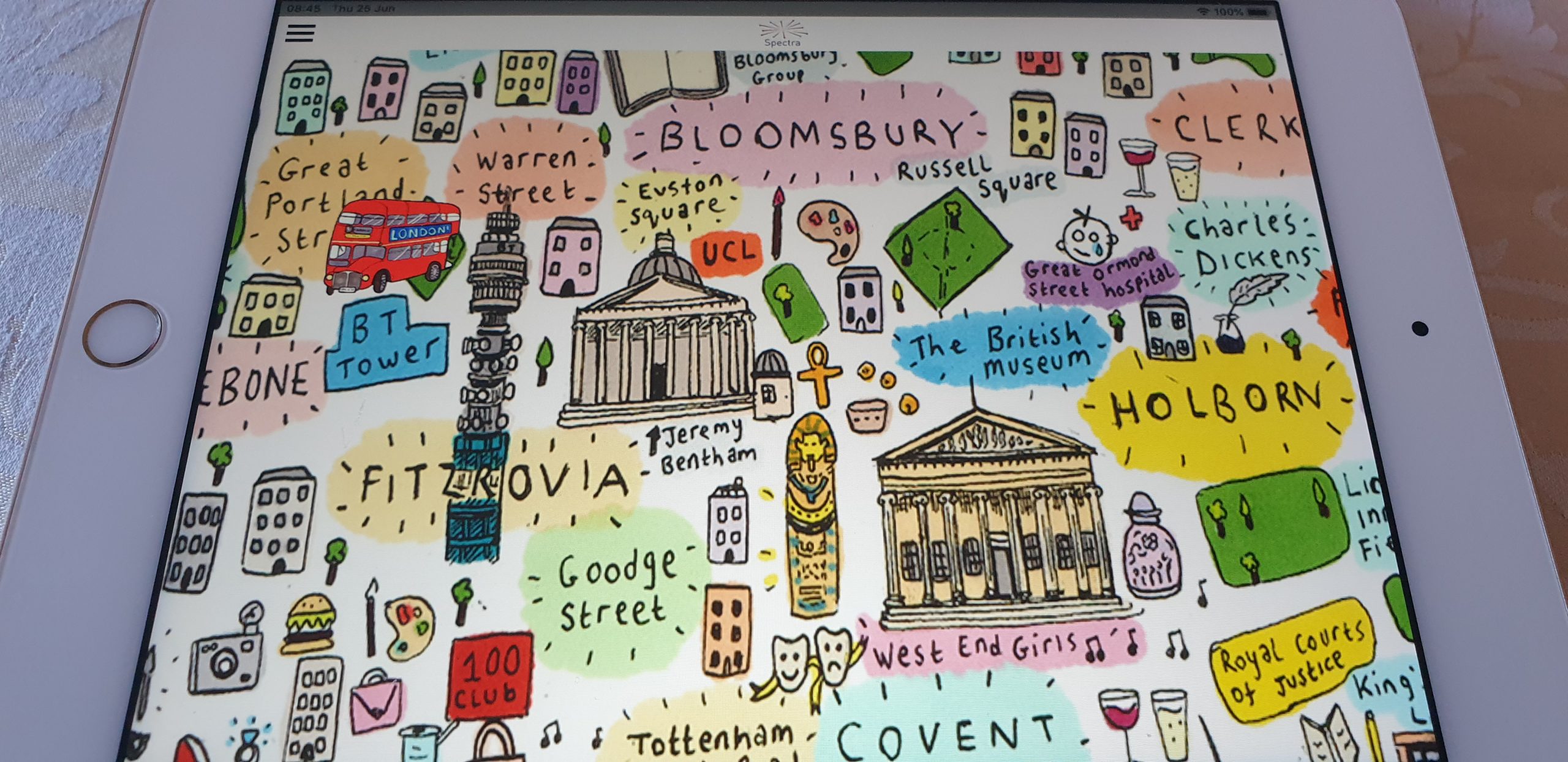 Spectra takes the FAM Trip Virtual
Over many years Spectra has showcased our destinations in the UK over countless Familiarisation Visits and since many FAM Trips were cancelled in 2020, we were determined to take our FAM Trips virtual. See below our Case Study on how we are creating an authentic, cultural and personal experience for prospective buyers in London and Edinburgh.
Woods Quay has arrived!
The long-awaited home to Woods' Silver Fleet, Woods Quay is set to become an important landmark on London's riverscape. Moored on the Victoria Embankment, Woods Quay not only offers private charter guests a beautiful and sleek passage to their awaiting boat, but there are three additional event spaces which can be also be enjoyed pre or post-river cruise.
Victoria Embankment
London, WC2N 6AY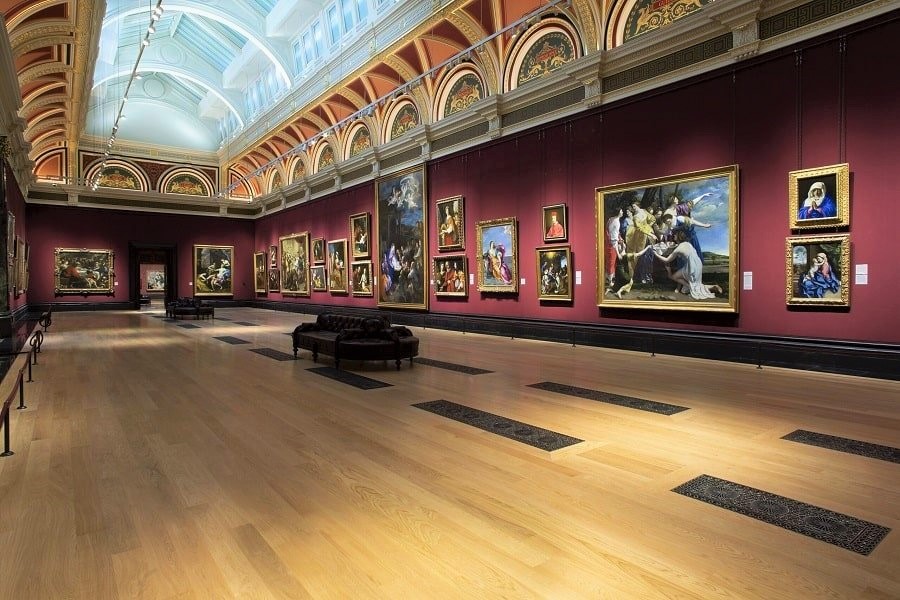 The Julia and Hans Rausing Room at The National Gallery
Following a 21-month closure and a £4 million donation, Room 32 at the National Gallery is now re-open after an extensive refurbishment. This space now known as The Julia and Hans Rausing Room is home to over twenty 17th-century Italian art including Caravaggio, Reni and Giordano. This beautiful gallery makes for a thought-provoking and opulent space for a drinks reception or dinner.
The National Gallery
Trafalgar Square
London, WC2N 5DN
Westminster Abbey Event Spaces
Excitement is bubbling as Westminster Abbey not only unveils a new space for events, but we are now able to offer The Cloisters for events once again. Hidden for over 700 years, The Queen's Diamond Jubilee Galleries (pictured above) has never been open to the public. This is one of London's newest event spaces and has been said to have "the best view in Europe".  Ideal in the warmer months, the 13th-century Cloisters are a beautifully elegant and atmospheric location for a drinks reception or dinner.
20 Deans Yard
London, SW1P 3PA

Andy Warhol at Tate Modern
The Andy Warhol exhibition displaying over 100 works offers a rare personal insight into how Warhol and his work marked a period of cultural transformation. At the exhibition you'll see a recreation of the psychedelic Exploding Plastic Inevitable, with lighting and film projections that turned the Velvet Underground rock shows into an event-spectacular, and experience Warhol's floating Silver Clouds, a playful, interactive installation filled with silver helium balloons.
Tate Modern
Bankside, London SE1 9TG

12 March - 12 September 2020
Malmaison City Hotel Edinburgh
Nestled in St Andrews Square, the Edinburgh Hotel is in the heart of the New Town and only a 10-minute walk to the Old Town. The designers have taken inspiration from nearby Thistle Street and Rose Street to create a lavish garden of texture, light and style, offering one of the most unusual hotels in Edinburgh.
21 -22 St Andrews Square
Edinburgh EH2 1AY
Davies & Brook at Claridges
Davies & Brook at Claridges  sees chef Daniel Humm return to the kitchen at Claridge's 25 years after he made his culinary debut there aged 15. While the menu does share some similarities with the food Humm serves at New York's Michelin-starred Eleven Madison Park, the chef is determined to make Davies & Brook shine on its own, with dishes that reflect the cultural diversity of London.
Claridges
Brook Street
London W1K 4HR
nHow Hotel
The new 4*, 190 bed nHow Hotel is themed 'London Reloaded'! Interior design by architect James Soane combines British icons with unconventional contemporary elements. These include a Big Ben rocket sculpture in the lobby and a wood installation around an LED fireplace.  The design reflects the industrial past and technological future of its location and provides a creative hub for the neighbourhood
2 Macclesfield Rd,
London EC1V 8DG
City of Aberdeen Distillery
Aberdeen's first distillery for over 75 years and first ever Gin School is tucked away under a city centre railway arch. The City of Aberdeen Distillery has restored the tradition of distilling in Aberdeen after a hiatus of almost 80 years.   Visitors can discover the history of distilling in Aberdeen, tour the distillery, and even distill a bottle of gin to their own recipe.
Arch 10
Palmerston Road
Aberdeen AB11 5RE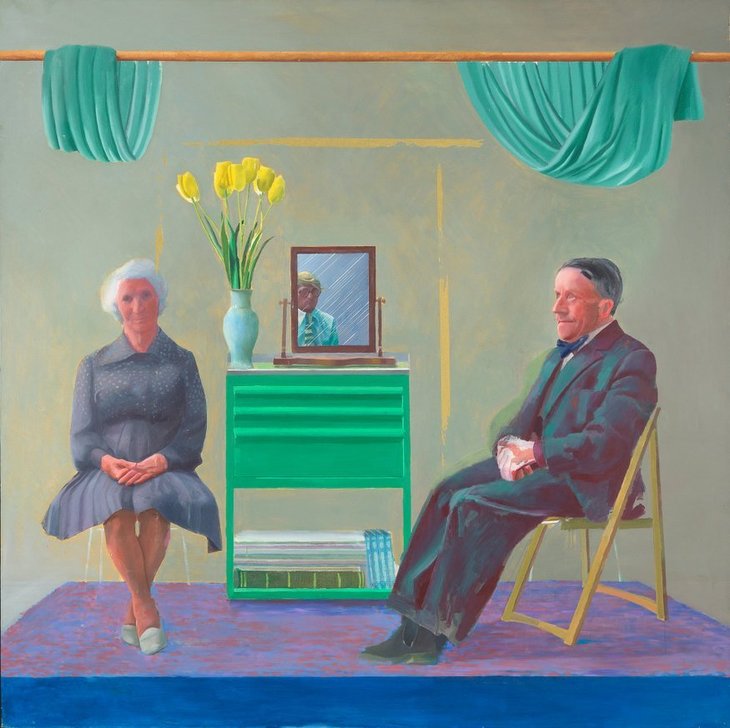 David Hockney, Drawings from Life
The first major exhibition devoted to David Hockney's drawings in over twenty years, David Hockney: Drawing from Life includes 150 works from the 1950s to the present,  focusing on depictions of himself and a small group of sitters close to him: his muse, Celia Birtwell; his mother, Laura Hockney; and friends, the curator, Gregory Evans, and master printer, Maurice Payne.
National Portrait Gallery,
St Martin's Place,
London, WC2H 0HE

Ends 28 June 2020
Illuminated River
Illuminated River, the longest public art project in the world, is on track for completion by winter 2020. Of the 17 bridges spanning the Thames between Albert Bridge and Tower Bridge, from the mighty arches of Waterloo, constructed by women during the Second World War to the futuristic Millennium Bridge, the project will eventually light 14; four  have already opened to give us a sneak preview of the ambitious project.  The artwork is transforming the bridges, with sensitively developed lightshows that pay attention to the heritage, wildlife and the built environment around them to create an unparalleled experience.
River Thames
London
Great Scotland Yard Hotel
Great Scotland Yard Hotel, tucked away in Whitehall, occupies the listed 1820s building that was the first home of the Metropolitan Police and there's still plenty of evidence in place despite the addition of 120 bedrooms and a separate townhouse (yours for £10,000 a night). The Forty Elephants bar commemorates a notorious Victorian all-female gang while mugshots and artefacts are in the public areas, alongside Robin Gill's Yard restaurant, whiskey snug Sibin and the tea-minded Parlour.
3-5 Great Scotland Yard,
London, SW1A 2HN
Neidpath Castle
Neidpath Castle, an unspoilt  keep dating back to the 12th century perched high above the River Tweed, offers private tours as well as exclusive dinners and lunches in the Great Hall. Just one hour south of Edinburgh, Neidpath Castle's structure has been untouched since the 1600s. Featuring a dungeon, a well and fireplaces large enough to roast an ox, there is also a set of exquisite 20th century batiks, telling the story of Mary, Queen of Scots, who stayed at the castle in 1563.  The castle now offers every convenience and can host 80 guests for events in the castle,  or larger numbers within the grounds.
Neidpath Castle,
Peebles EH45 8NW
Tutankhamun: Treasures of the Golden Pharaoh
Tutankhamun: Treasures of the Golden Pharaoh    commemorates the 100th anniversary of the discovery of Tutankhamun's tomb and is the final chance to see these glittering world heritage artifacts before they return to Egypt forever. Explore the life of King Tutankhamun and the story of the discovery that captivated the world through more than 150 authentic pieces from the tomb.
Saatchi Gallery,
Duke of York's HQ, King's Road
London SW3 4RY

2 November 2019 – 3 May 2020
Kimpton Blythswood Square Hotel
Kimpton Blythswood Square Hotel,  set in a garden-filled square in Glasgow's city centre, combines the elegance of a stately 19th-century Georgian townhouse with the luxe modern amenities of a five-star property. It's all topped off with exceptional service and a raved-about spa.
11 Blythswood Square,
Glasgow G2 4AD
Seven Dials Market
Seven Dials Market, a converted cucumber and banana warehouse, is the latest "food hall" type opening in the heart of London's Covent Garden, run by Kerb (a membership association of street food traders). The food hall's bookshop is available for private dining for up to 40
Earlham Street
London WC2 9LX
Judith  – It (weekend in Liverpool) was all perfectly organized,  everything neatly on time and a great assistant at the airport. nice guides during the Beatles tour.  All went well everyone was very enthusiastic, thanks for your help.
Dutch Football Club Supporters, March 2020
Schottland ist es eine aussergewöhnliche Destination für unsere Incentive Kunden und gerne werde ich mich bei ihnen für Schottland einsetzen und die Destination wärmstens empfehlen. Natürlich hat Spectra und Gillian tollen Job gemacht.Auf jeden Fall werden wir sie für zukünftige Reisen gerne berücksichtigen und wir freuen uns auf eine zukünftige Zusammenarbeit.  / Scotland is an exceptional destination for our incentive clients, and I will be happy to work with them for Scotland and warmly recommend the destination. Of course Spectra and Gillian did a great job. In any case, we will gladly consider you for future travel and we look forward to future cooperation.
German Agents' Fam Trip – December 2019
Mark & Spectra in Scotland team –  We are pleased to present Spectra in Scotland with our 2019 Extraordinary Performance Award. Our internal and onsite evaluations have confirmed that your thought leadership, flexibility, responsiveness, excellence in operations by your staff and your partnership have exceeded expectations when compared to your peers throughout the industry. Your efforts, actions, and results enabled us to provide an unsurpassed experience for our client. Please accept this award for 2019, please display it proudly. Congratulations!
Motivation Excellence 2019 Extraordinary Performance Award
Susan and Anna –  Our attendees' post-trip comments were overwhelmingly positive: "Scotland was a home run!"; "Best trip ever!"; "It was perfect!".  Working alongside the Spectra in Scotland team was one of the most enjoyable experiences of my career – a lot of moving parts, a lot of detail and a heck of a lot of fun!  I can't wait to do it again (and again, and again).
U.S. corporate group – October 2019
Mark, Pamela, Tracy & Sarah  – Your program operation for the London Conference was faultless – Spectra exceeded expectations and the tour guide was fantastic. All of the delegates provided overwhelming positive feedback to the program!  Spectra are the best DMC the client has worked with!
Australian medical conference – October 2019
Susan and Anna – The [Spectra in Scotland] team were absolutely indispensable in not only helping me put together a program and executing to plan, but ensuring that components of the program – from the activities to the venues to the gifting – were creative and thoughtful and, together, created a most wonderful experience and lasting impression of Scotland!
U.S. corporate group – October 2019
Mark  –  I have had very positive feedback regarding the tour and Sarah. In all honesty the best feedback I have ever had on a post tour. Thanks go to you for making it work so well – I will definitely contact you again!
Australian medical group – October 2019
Caroline – I've had great feedback about the trip to London. Everything worked very well. The bike ride was the highlight and they had an amazing guide. My client said it was the best guided tour he had ever been on!
Multinational construction company – October 2019
Judi – These customers are some of our most strategic accounts so it is really important that all the logistics go as planned and everything looks perfect.  Thanks to you, Carol and your team, we were able to do that…For the Tower Bridge, everyone had an amazing experience so thank you for helping us secure that space. Everything was on point and it was excellent. Thanks again and hopefully we will work together soon in another project.
Multinational technology company, October 2019
Giulia –  Everything on the tour worked out – the group really felt very well looked after. Again I wanted to thank everyone of you – you did a marvelous job!
Austrian media company, October 2019
Jarmila – Thank you so much!  We got a lot of great feedback and after we got a good attendance, it's a success in my book.  You and your team were fantastic.
US Banking Sector client, September 2019
Susan & Anna – this is exactly how we think a DMC should work – absolute perfection from your end!  I just told everyone at our office that your way of working together with us on service, documents, cost-sheets, running-sheets etc. are the way to aim for!
Swedish corporate group, September 2019
Gary met every need we had and exceeded expectations for every request.  He always gave me all of his attention and truly helped make our golf program much more special than it would have ever been without him.  I am so thankful for his and Spectra's access to the area, his time and his expertise in helping to plan and execute what is a once-in-a-lifetime golfing experience for many"
U.S. Business Leaders,  August 2019
Mark, absolutely wonderful working with you, you're a great ambassador for Scotland, and Edinburgh is truly a special place.  Wonderful people to work with, too!
US Insurance Company, July 2019
Jarmila –  Thank you and your colleagues for making a very successful meeting and great program for our large group in London. Thanks for being there with me and my client 100% during the hectic days, checking program, suppliers and all involved. A wonderful cooperation with you, great guides and chauffeurs. The client is over thrilled … You did an outstanding job and you are a great partner , THANK YOU !
Danish Finance Sector Group, May 2019
Gillian, Anna and Gary: our events in Scotland were spotless and a huge success, this was thanks to your exceptional team, who was always there ready to help. My client was beyond satisfied and the guests were amazed by the stunning venues and wonders of Edinburgh, as well as the hospitality of its people.
Spanish Incentive House – June 2019
I cannot sing your praises higher – Both Pamela and Caroline were BEYOND AMAZING!
US biotechnology company – April 2019
Hi Miriam  – I just contacted the client to hear about the tour (to Edinburgh and Aberdeen). They are VERY satisfied with everything!  Thank you for a perfect arrangement and a very good cooperation throughout! I can recommend you to all our staff!
Danish public sector group, March 2019
Hi Gary & Gillian –thank you for helping me to plan a wonderful event. I loved the fact that the team got to experience a little bit of everything Scotland.. Highland games, falconry, drumming, piping, whisky tasting and tea and scones. The team had an amazing time!
US corporate client, March 2019
Dear Alan, I would like to thank you a million times for the great inspirational trip we had to London last week! It has certainly put London on top of mind again! The venues were amazing and surprising! Abbey Road Studios was an unforgettable experience, as it was promised to be. I truly hope to find a client to share this experience. Many thanks again and applause for you and your dedicated team!
Dutch Travel Marketing Company, February 2019
Pamela, I would like to thank you, your team and Spectra for your excellent assistance with two very important back to back events in January. Given the extremely short timeline to execute these two events, you did so with extreme professionalism, accuracy and creativity.  There were millions of changes and you didn't miss a beat!  I enjoyed partnering with Spectra and found the experience to be pleasant and excellent.  I look forward to working with you on upcoming programs in the UK.
Multi-National Corporate Client, January 2019
Hannah – Our meeting in London was a huge success largely because of you and your team. From transportation to décor at the venue – truly first class. We are not the easiest client but Spectra made us feel at ease from day one and it carried through the event – THANK YOU!"
US corporate client, November 2018
Mark's thoughtful and solutions oriented approach to problems and challenges, his knowledge of the travel options in Scotland and experience with American incentive programs makes him a perfect fit for one of our most important programs
 US Incentive House, August 2018
Anna, this was really a very successful program in Aberdeen  you suggested to the group. Thank you so much for all help with all the details and changes on the way. You did a great job!
Norwegian Group, April 2018
Tracy  –  Please extend our thanks to all involved… The whole program, from start to finish, was spectacular and the client could not fault anything… I know that this program was challenging in many ways, so the fact that everything came together so seamlessly is a true testament to how fantastic you all are!
Australian automotive client, July 2018
Gary – thanks for your OUTSTANDING assistance. You were at all times personable, professional and willing to always go above and beyond in making this a memorable trip. I will always recommend to my friends that they too should seek out Spectra for any assistance in travelling to Scotland
US Barristers, April 2018
Pamela – Personal thanks to you for being ahead of the game on all aspects of the program – you were always there to be sure coaches were set, meals ready, and last-minute changes were taken care of.  I do hope I have another opportunity to sell London – I'll be in touch with Spectra immediately.  Many thanks to all who were involved with making this program such a huge success!
US incentive agency, May 2018
Gary – We  cannot adequately express our gratitude for your tour guide/driver. His knowledge of history, the sites that we needed to see, and the little things that would make our [Scottish Highlands] trip special was amazing.  Thank you for your selection of hotels and planning our trip with so little direction.  It was a trip of a lifetime!!!
US Lawyers, April 2018
Alan, just a short message to extend our gratitude to the Spectra crew for a fam trip well organized. There is nothing more to be said than it was truly a Magical Mystery Tour.  It was great fun, nice to spend time with you and very useful to see what Manchester and Liverpool is all about.
Norwegian Corporate MICE Agency, January 2018
Paul – I LOVE your team in Edinburgh!  The banter between Mark, Susan and myself  is precious and fun.  I only wish I could work with you guys 100% of the time.  You have a WONDERFUL team/company and it is really a pleasure to work with anyone from Spectra
US Insurance Company, April 2018
Pamela – thank you for all of your hard work, updates, photos and willingness to do whatever needed (punch holes in cards, find a fish bowl, get the video running on loop, etc.). I sincerely appreciate you make our events team and the company look good!
US corporate client, October 2017
Paul  – We're proud to honor Spectra as an Inspirational Partner. Their high standards and attention to detail help us to deliver the excellent service our clients deserve. We look forward to continuing our partnership.
Global performance improvement agency, September 2017